Are you concerned about your company losing brand or customer value by having an overgrown lawn or unkept landscaping?
Our complete lawn care and landscaping maintenance services for commercial properties in Lancaster County and nearby give you complete peace of mind knowing your property's exterior is beautiful, well-maintained, and attractive.
Promote your brand and increase property value with our landscaping maintenance!
Landscape Maintenance To Promote Your Brand
Complete Lawn Care
Our lawn mowing services keep your lawn neat, clean, and perfectly manicured.
Tree & Shrub Maintenance
Don't worry about overgrown or dead trees or bushes distracting from your business.
Flower & Mulch Bed Care
Promote your brand with perfectly planted and maintained flower and mulch beds.
Office &
Corporate Campuses


Retail Centers &
Shopping Malls

Home Owner's
Associations
We service more types of properties - contact us to see what's possible for your business!
We Make A Beautiful Lawn & Landscape in Lancaster County Easy
Request a quote

We meet you at your property and discuss your landscaping and lawn care goals.
We sketch your property

We walk your property to get all necessary measurements.
You approve the quote

Review your estimate and approve it.
We do the work

Watch your curb appeal grow and be proud of your property!
Landscape & Lawn Care Services
We Offer In Lancaster County
Why Work With Creation Landscaping?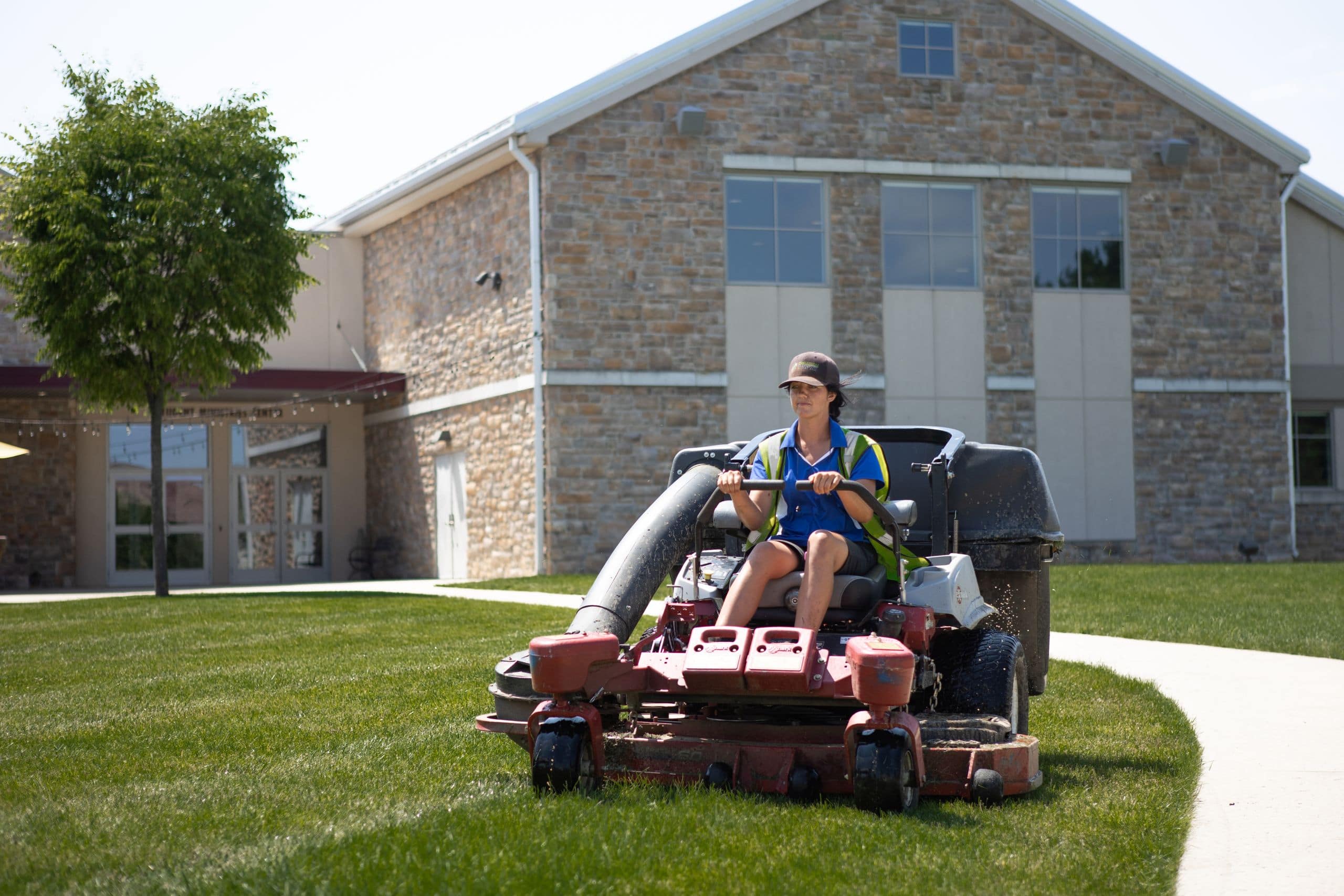 Customer Service
We focus on long-term relationships with business owners and property managers.
Local Business
We are based in Lancaster County, PA, and we understand the local work ethic and business culture.
Experience
Our experience and training ensures we follow only best practices when designing and installing landscapes.
Clean & Professional
Whether it's our uniforms, equipment, or employees, we guarantee professionalism in our work.
Do you have more questions about
commercial lawn care and landscaping services?
The square footage of the lawn and landscape creates a baseline price for commercial lawn care and mowing. However, additional activities like weed control, edging, and cleaning up any mess left from the work that was done can affect the price of the job.
Complete Commercial Lawn Care In Lancaster County, PA
As a commercial property manager or business owner, you want to have peace of mind knowing that your business exterior is well-maintained and always inviting new clients.
The problem is that poor landscaping services can result in overgrown lawns, run-down flower beds, improperly pruned trees and bushes, and an overall sloppy exterior.
At Creation Landscaping & Lawn Care, our complete landscaping maintenance services and commercial lawn care keep your property maintained and brand value high.
Creation Landscaping provides landscape services with a mindset of innovation and service. Whether your property is a retail establishment, corporate office building, industrial park, healthcare facility, apartment complex, or homeowner association, we are here to help.
We work closely with you to find ways to improve your property and make the best first impression for your clients, customers, employees, residents, or guests.
Through proactive solutions like our customer feedback, our quality audit system, and scheduled service visits, we are able to recognize potential issues with your property and address them before they become problems.
Together, let's create a beautiful environment and make a great impression on everyone who visits your property!
We offer complete landscaping maintenance, lawn care services, and snow & ice removal in the Lancaster, Lebanon, and York areas. Click one of our services below to learn more:
Landscape Management & Lawn Care
Contact us today to get your free quote and see what is possible for your property!
We provide our lawn care services to all cities and boroughs in Lancaster County, including:
Lancaster City (county seat), Adamstown, Akron, Christiana, Columbia, Denver, East Petersburg, Elizabethtown, Ephrata, Lititz, Manheim, Marietta, Millersville, Mount Joy, Mountville, New Holland, Quarryville, Strasburg, and Terre Hill.
We also service a variety of other townships and unincorporated communities.
We service all zip codes in Lancaster County, including:
17368, 17501, 17502, 17503, 17504, 17505, 17506, 17507, 17508, 17509, 17512, 17516, 17517, 17518, 17519, 17520, 17521, 17522, 17527, 17528, 17529, 17532, 17533, 17534, 17535, 17536, 17537, 17538, 17540, 17543, 17545, 17547, 17549, 17550, 17551, 17552, 17554, 17555, 17557, 17560, 17562, 17022, 17563,17564, 17565, 19362, 17566, 17567, 17568, 17569, 17570, 17572, 17573, 17576, 17578, 17579, 17580, 17581, 17582, 17584, 17585, 17601, 17602, 17603, 17604, 17699, 17073, 19501,19543, and other surrounding areas.
Contact us today to get your free quote and see what is possible for your commercial property in Lancaster County!
We serve many locations throughout Lancaster County, PA:
Brownstown, PA
Ephrata, PA
Harrisburg, PA
Hershey, PA
Lancaster, PA
Manheim, PA
Marietta, PA
Mountville, PA
New Holland, PA
Rohrerstown, PA
York, PA
Information courtesy of Creation Landscaping & Lawn Care LLC, 1061 Hartman Station Rd, Lancaster, PA 17601