Are you concerned about losing brand or customer value by having an overgrown lawn or unkept landscaping?
Our complete lawn care and landscaping maintenance services in Salunga-Landisville and nearby give you complete peace of mind knowing your property's exterior is beautiful, well-maintained, and attractive.
Promote your brand and increase property value with our landscaping maintenance!
Landscape Maintenance To Promote Your Brand
Complete Lawn Care
Our lawn mowing services keep your lawn neat, clean, and perfectly manicured.
Tree & Shrub Maintenance
Don't worry about overgrown or dead trees or bushes distracting from your business.
Flower & Mulch Bed Care
Promote your brand with perfectly planted and maintained flower and mulch beds.
Office &
Corporate Campuses


Retail Centers &
Shopping Malls

Home Owner's
Associations
We service more types of properties - contact us to see what's possible for your business!
We Make A Beautiful Lawn & Landscape in Salunga-Landisville Easy
Request a quote

We meet you at your property and discuss your landscaping and lawn care goals.
We sketch your property

We walk your property to get all necessary measurements.
You approve the quote

Review your estimate and approve it.
We do the work

Watch your curb appeal grow and be proud of your property!
Landscape & Lawn Care Services
We Offer In Salunga-Landisville
Why Work With Creation Landscaping?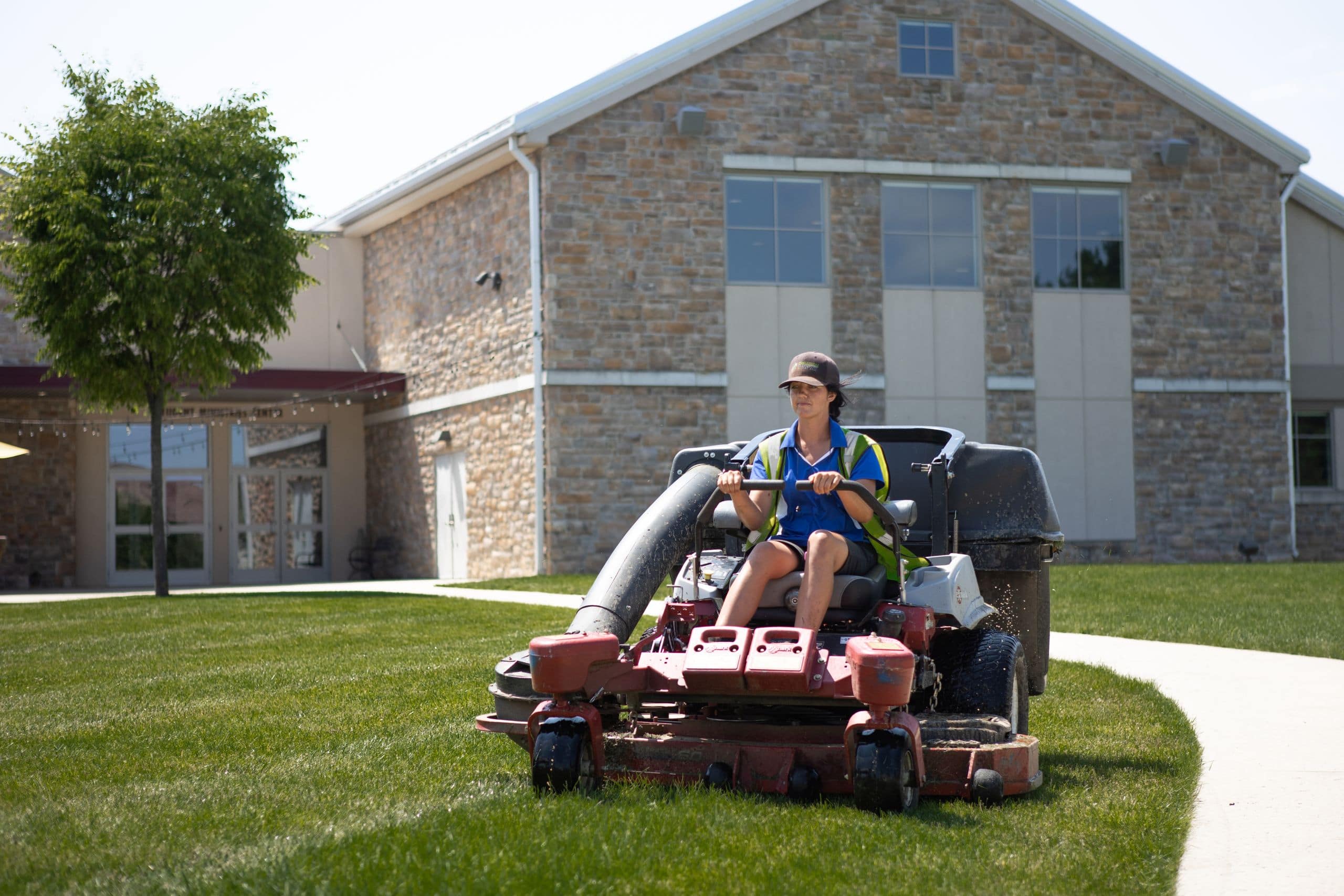 Customer Service
We focus on long-term relationships with business owners and property managers.
Local Business
We are based in Lancaster County, PA, and we understand the local work ethic and business culture.
Experience
Our experience and training ensures we follow only best practices when designing and installing landscapes.
Clean & Professional
Whether it's our uniforms, equipment, or employees, we guarantee professionalism in our work.
Do you have more questions about
commercial lawn care and landscaping services?
The size and shape of your lawn will determine what you need to hire a professional for. The square footage creates an average price, but additional activities can affect those costs significantly such as weed control or edging which may be required in some cases if there's been recently heavy rainfall where water collected near buildings before draining into gutters; these tasks add extra work on top of regular mowing services so make sure they're included when bidding!
Creation Landscaping is the go-to landscaping company for all your exterior property needs. From turf treatments, weeding and tree work to updating flowerbeds or designing new landscapes; our goal? To allow you complete peace of mind while taking care any issue that comes up around properties edge!
Mowing schedules vary depending on location but most lawn owners find weekly mows work well for maintaining neat appearance while still providing enough grass protection against weeds since these little problems take off quickly when there isn't anything protecting them from sunlight. Sports fields may need to be mowed more often depending on the circumstances.
The best way to know if you have a good lawn care specialist is to look at the work they've already done. Stop in at some properties they maintain and see how they look. It's also a good idea to ask for references and ask these people if they have been satisfied with the service they have received.
Your life will be so much simpler if you have one lawn care company that can take care of all your landscaping needs, rather than having multiple different companies that you have to arrange to do different jobs. With that in mind, make sure you ask about all the services they offer.

Other key questions include:
How does your turf program work and how do you get your properties weed free? 

How often can you maintain my property? 

Do you also offer flower bed maintenance?
Mowing is not important when it comes to the health of your grass and turf. Rather, you should make sure to aerate and overseed your lawn every 3-5 years.
If you name it, we can do it! Our goal is to make your life easy. That means that we can come in and take care of the outdoor features of your property from A-Z

And we don't just maintain your property. We also go above and beyond to make suggestions about improving your property, and ensure we notify you of any potential problems we see in your landscaping. Again, we want you to rest easy that all your landscaping needs are taken care of when you work with Creation Landscaping.
Complete Commercial Lawn Care In Salunga-Landisville, PA
As a commercial property manager or business owner, you want to have peace of mind knowing that your business exterior is well-maintained and always inviting new clients.
The problem is that poor landscaping services can result in overgrown lawns, run-down flower beds, improperly pruned trees and bushes, and an overall sloppy exterior.
At Creation Landscaping & Lawn Care, our complete landscaping maintenance services and commercial lawn care keep your property maintained and brand value high.
If you are a business owner in the Salunga-Landisville area, you probably know how challenging winter can be for a business. 
There are power-outs, bad roads, snowy sidewalks, and treacherous parking lots covered in sheets of ice, just to name a few annoying challenges. The list goes on! 
As the owner, you are probably stressed about what all this means for your business. It's a lot to think about! 
At Creation Landscape, we understand that stress. We have experienced it too! We would like to help you out. 
We offer quality snow and ice management services for businesses and commercial buildings. With our fleet of modern snow management equipment, unique de-icing brine solution, and 24-hour availability, we are prepared for any emergency. 
Give us a call today to gain peace of mind this winter! 
There are lots of great reasons to start your business in the Salunga-Landisville area, despite the rough winters. There are plenty of attractions in the area: 
Nookside Stables

1852 Herr Family Homestead 

Spooky Nook Sports 

Myers Strawberry Farm 

Graystone Ridge Alpacas 

Root's Country Market and Auction 

Laserdome 

Dutch Apple Dinner Theatre 

Kreider Farms

Amos Herr Park 
And all the outdoor adventures you can find in the surrounding countryside. Not to mention the attractions of the neighboring cities of Lancaster, Harrisburg, and Philadelphia. 
Salunga-Landisville consists of two census-designated places in Lancaster County, PA. Salunga gets its name from nearby Chiquesalunga Creek (now called Chickies Creek) and Landisville was named for John Landis, the first postmaster in the town. 
The two towns were established in 1790, with a Mennonite church building (which still stands today,) being one of the first buildings in the area. Soon after, a hotel and a tavern were established as well.  
By the mid-1800s there were various other tradesmen in the area, including a wagon-maker, blacksmith, and cigar maker. 
For years the community was a key stop along several transportation networks such as the Harrisburg Pike that ran between Lancaster and Middletown and the Pennsylvania Railroad. However, the 1949 opening of the Harrisburg Pike bypass cut down on the number of travelers passing through, and turned the area into more of a bedroom community. 
The community holds two community parks each with a pavilion and various outdoor activities available. Together, the two CDPs cover about 3 square miles of land and provide a home for almost 5,000 people.  
If you are a business or commercial building owner in Salunga-Landisville, our services are for you! We offer snow management services for all zip codes in Salunga-Landisville: 
17538 
Give us a call today! We look forward to hearing from you. 
We serve many locations throughout Lancaster County, PA:
Brownstown, PA
Ephrata, PA
Harrisburg, PA
Hershey, PA
Lancaster, PA
Manheim, PA
Marietta, PA
Mountville, PA
New Holland, PA
Rohrerstown, PA
York, PA
Information courtesy of Creation Landscaping & Lawn Care LLC, 1061 Hartman Station Rd, Lancaster, PA 17601