Are you concerned about losing brand or customer value by having an overgrown lawn or unkept landscaping?
Our complete lawn care and landscaping maintenance services in Denver and nearby give you complete peace of mind knowing your property's exterior is beautiful, well-maintained, and attractive.
Promote your brand and increase property value with our landscaping maintenance!
Landscape Maintenance To Promote Your Brand
Complete Lawn Care
Our lawn mowing services keep your lawn neat, clean, and perfectly manicured.
Tree & Shrub Maintenance
Don't worry about overgrown or dead trees or bushes distracting from your business.
Flower & Mulch Bed Care
Promote your brand with perfectly planted and maintained flower and mulch beds.
Office &
Corporate Campuses


Retail Centers &
Shopping Malls

Home Owner's
Associations
We service more types of properties - contact us to see what's possible for your business!
We Make A Beautiful Lawn & Landscape in Denver Easy
Request a quote

We meet you at your property and discuss your landscaping and lawn care goals.
We sketch your property

We walk your property to get all necessary measurements.
You approve the quote

Review your estimate and approve it.
We do the work

Watch your curb appeal grow and be proud of your property!
Landscape & Lawn Care Services
We Offer In Denver
Why Work With Creation Landscaping?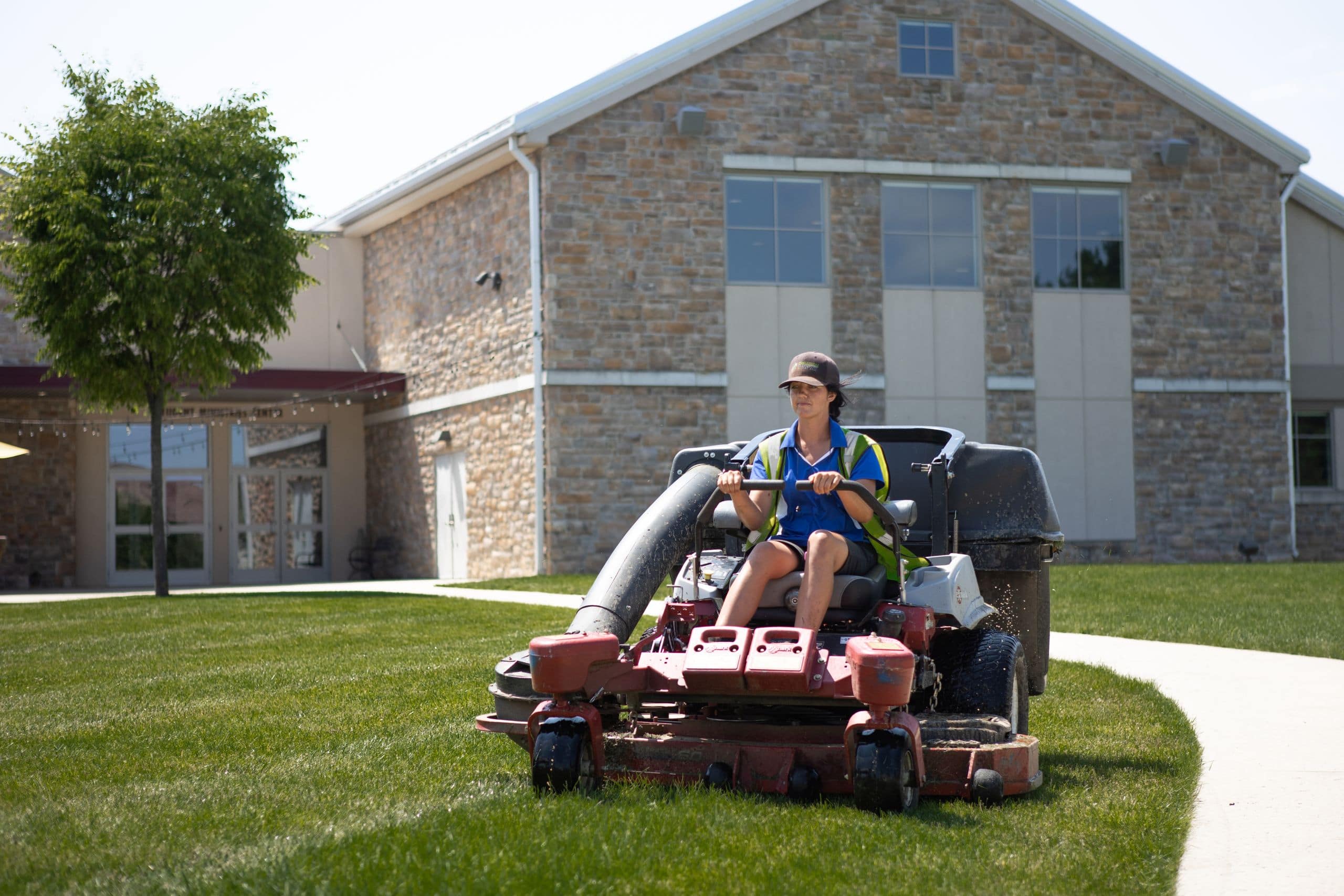 Customer Service
We focus on long-term relationships with business owners and property managers.
Local Business
We are based in Lancaster County, PA, and we understand the local work ethic and business culture.
Experience
Our experience and training ensures we follow only best practices when designing and installing landscapes.
Clean & Professional
Whether it's our uniforms, equipment, or employees, we guarantee professionalism in our work.
Do you have more questions about
commercial lawn care and landscaping services?
The size and shape of your lawn will determine what you need to hire a professional for. The square footage creates an average price, but additional activities can affect those costs significantly such as weed control or edging which may be required in some cases if there's been recently heavy rainfall where water collected near buildings before draining into gutters; these tasks add extra work on top of regular mowing services so make sure they're included when bidding!
Creation Landscaping is the go-to landscaping company for all your exterior property needs. From turf treatments, weeding and tree work to updating flowerbeds or designing new landscapes; our goal? To allow you complete peace of mind while taking care any issue that comes up around properties edge!
Most lawns need to be mowed weekly in order to maintain a neat, clean, and attractive appearance. Sports fields may need to be mowed up to two times a week, and in hot and dry circumstances, a lawn may not need to be mowed weekly.
The best way to know if you have a good lawn care specialist is to look at the work they've already done. Stop in at some properties they maintain and see how they look. It's also a good idea to ask for references and ask these people if they have been satisfied with the service they have received.
Your life will be so much simpler if you have one lawn care company that can take care of all your landscaping needs, rather than having multiple different companies that you have to arrange to do different jobs. With that in mind, make sure you ask about all the services they offer.

Other key questions include:
How does your turf program work and how do you get your properties weed free? 

How often can you maintain my property? 

Do you also offer flower bed maintenance?
Mowing is not important when it comes to the health of your grass and turf. Rather, you should make sure to aerate and overseed your lawn every 3-5 years.
If you name it, we can do it! Our goal is to make your life easy. That means that we can come in and take care of the outdoor features of your property from A-Z

And we don't just maintain your property. We also go above and beyond to make suggestions about improving your property, and ensure we notify you of any potential problems we see in your landscaping. Again, we want you to rest easy that all your landscaping needs are taken care of when you work with Creation Landscaping.
Complete Commercial Lawn Care In Denver, PA
As a commercial property manager or business owner, you want to have peace of mind knowing that your business exterior is well-maintained and always inviting new clients.
The problem is that poor landscaping services can result in overgrown lawns, run-down flower beds, improperly pruned trees and bushes, and an overall sloppy exterior.
At Creation Landscaping & Lawn Care, our complete landscaping maintenance services and commercial lawn care keep your property maintained and brand value high.
As a business owner in the Denver area, you know the difficulty of doing business during the winter. 
The list of challenges is endless! With snow storms and ice-covered sidewalks it's not easy to keep on top of everything you need to do to run your business well.
When you own the business in situations like this, you feel the added weight of responsibility.
At Creation Landscape, we get it. We have weathered many a winter, ourselves, and we want to help.
Our advanced snow machinery and 24-hour availability make us the most trusted snow and ice management service for any winter emergency a business may face.
Give yourself peace of mind by letting us help you make sure your walkways and parking lots are well taken care of for your customers. Call us, today!
Even with the winter weather, the Denver area is an excellent place to own a business. Attractions in the area include: 
Lancaster County Antique Center

Oley Valley Antiques

German Trading Post

Middle Creek Kayak Rentals

272 Antiques Mall

Mother Tucker's Antiques and Collectibles

Knead It Massage & Bodyworks

Adams Antiques

The Green Dragon Farmer's Market

Time Matters Antique Mall
Plus lots of sightseeing adventures available throughout Lancaster county. There are also several historical cities to visit, such as Philadelphia, Lancaster, and Harrisburg.
Denver was founded by Hans Bucher, a Swiss immigrant, in 1735. It was originally known as Bucher's Thal, or "Bucher Valley", in reference to the adjacent Cocalico Creek.
During the Civil War, the Reading and Columbia Railroad built a line through town, prompting a name change to "Union Station". With time, residents grew weary being referred to as a train station. After researching post offices in the country, Adam Brubaker found only one named Denver. On November 1, 1881, the town was officially renamed Denver.
By the late 19th century, continued growth had some residents considering incorporating as a borough. The tipping point was a major fire at the Denver House, a tavern built behind the train station in 1868. Water from a local well and the nearby Cocalico Creek was insufficient to fight the fire, prompting tobacco merchant Aaron Shirk, physician W.D. Fink and businessman Ephraim Renninger to press for incorporation, so a municipal water system could be created. The trio filed an application for incorporation in April 1900, and by that December, Denver Borough had come into being.
With the turn of the century, the new borough purchased a reservoir site and constructed a water plant, which went online in 1902. By 1906, the one quarry still in operation today just outside Denver was opened in 1906 by Abram G. Kurtz.
Around the time Denver was incorporated, cigar making was the dominant industry in the area, but mechanization eventually doomed the trade in hand-rolling cigars. New industries sprouted up, including the F&M Hat Company, founded in 1912 by brothers Samuel and Daniel Fichthorn along with their brother-in-law Ambrose Marburger.
F&M Hat quickly grew into the town's largest employer, giving generations of residents jobs in its factory. By 1939 there were 835 employees working two shifts.
Today, Denver has a population of 3,900 people and is home to over a hundred local businesses.
If you currently own a business or commercial building in the Denver area, give Creation Landscape a call next time you need snow or ice removed. Our services are for all zip codes in Denver: 17517, 17578. 
We can't wait to serve you! Call today!
We serve many locations throughout Lancaster County, PA:
Brownstown, PA
Ephrata, PA
Harrisburg, PA
Hershey, PA
Lancaster, PA
Manheim, PA
Marietta, PA
Mountville, PA
New Holland, PA
Rohrerstown, PA
York, PA
Information courtesy of Creation Landscaping & Lawn Care LLC, 1061 Hartman Station Rd, Lancaster, PA 17601